Müsahibə - Marek Hlavica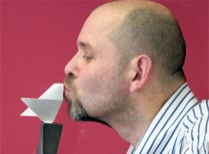 Marek studied Television and TV Journalism at Charles University Prague before starting to work at Mlady svet a youth weekly magazine where he progressed from Editor and Writer to Managing Director and Chairman. He then moved to TV Nova as PR and Marketing Director and after that he moved into PR first working at Pragma Communications and then moving to Impact, the PR arm of the advertising agency BBDO, as a Managing Director. He then moved to Philip Morris CR as Manager Communications before moving to Citibank as Public Affairs Officer. Marek then became an independent consultant working for Philip Morris, Plzensky Prazdroj and the Initiative of Responsible Breweries. In 2005 he joined ČEZ as Director of the Communication Section. In 2006 he joined Plzeňský Prazdroj as Corporate Communications Manager. Today Marek is Managing Director of the PIAF festival.

Mak.az: It is good that we have many advertising festivals in Europe such as Cannes Lions, Golden Drum, Ad Print and so on. What was the necessity to create a new festival?
Marek Hlavica: We have tried to create a concept which in our opinion corresponds with today's needs. It is by no means some kind of gigantic event, which will keep people away from work for an unacceptable amount of time and ruin their company budgets. Under one roof, on an island lapped by a river, for a period of three days we will create a sort of republic of advertising. It will be a place where people can meet other participants without having to spend ages looking for them, and with no need to study a thick brochure with the festival's program. We want to offer the very best from the advertising industry and we take the same approach in putting together the festival jury. We have also decided to stimulate people's interest by offering very interesting prizes for participation and we have negotiated exceptionally favourable prices with hotels in Prague. We are convinced that those who will visit Prague in the spring will be happy to come back again. However, our job now is to convince them to come and see PIAF for themselves.
Mak.az: How do you position PIAF, what is the main difference of this event?
Marek Hlavica: PIAF should be a intimate but very professional event. One of the specifics is our beer advertising category a focus on beer and alcohol advertising in the program. We have created this special category to honour one of the strongest points of Czech cultural heritage - beer, recognized by many as being the best in the world. I hope this category, complemented by the screening of selected legendary beer ads, will bring a lot of fun to visitors and jurors alike. Obviously, Prague with all of its attractions – and I am not talking about beer at this moment – is a huge asset and it helps us a lot.
Mak.az: So how about feedbacks for current day, is there an interest and which countries are most interested for this event?
Marek Hlavica: Surprisingly, we recognized that most of the visitors on our web site come from Asia and South America. At the moment we still have not many entries – but as usually we expect to get more just before deadline. Most of them are from Germany, Russia and Czech Republic, but there are some Australian and Asian entries, too.
Mak.az: Now everybody talks and even feels about crisis, do you think is it the right time for launching this kind of event in this period?

Marek Hlavica: Waiting for the right time means wait for ever. Unfortunately the right time is always in the past. Well, each project brings a risk. We believe that advertising festivals will survive as a professionally oriented event that brings the value to both professional individual and employer. No matter if it is agency o media or advertiser. We perceive the crisis as an opportunity to create very focused and concentrated – meaning efficient event!
Mak.az: Czech Republic is geographically situated in very important place, you bordered with developed Western Europe and with developing Eastern Europe. What can you say about difference in creative approach between West and East?
Marek Hlavica: Sorry, I personally am not at the position to make any assessment. I am sure that they must be different and they can enrich each other. This is a typical topic to be discussed during the festival at the panel discussions and informal meetings in the palace café and terraces, in the boats on the Vltava river, in the pubs around the island where PIAF takes place. This is why festivals exist.
Mak.az: Could you please explain the meaning of festival's logo?
Marek Hlavica: Origami birdie is a symbol of the human creativity. On the other hand – PIAF in French means little bird. Bird is also herald of the spring if you wish.
Mak.az: Can you name some Czech brands which are famous in worldwide?
Marek Hlavica: Starting with the beer – Pilsner Urquell is the very first pilsner (pils) type of beer in the world - born in Pilsen. Also original Budweiser beer came from city of Budweis. Skoda cars are known internationally. There are also some other "brands" like Prague, Vaclav Havel, Jaromir Jagr or Milos Forman and many others.
Mak.az: Did you receive already any material from our region, we mean Azerbaijan, Georgia, Turkmenistan and so on?
Marek Hlavica: Yes, we have some entries from Azerbaijan and we are very pleased by that. I think they understood very quickly that to participate in the new festival with the very respected jury provides the great opportunity.
Mak.az: Your wishes or may be requests to Azerbaijani Marketing Community.
Marek Hlavica: The PIAF team wishes the Azerbaijani Marketing Community lots of bright ideas, understanding audience interaction and several PIAF AWARDS at the desk! Of course, big budgets, too.
Baxılıb: 7124